HLSB-PT 2/1 4/2 360 degree Fabric Label Flexo Printing machine has carried on the comprehensive technical innovation, on behalf of flexographic printing machine development trend. The machine adopts machine, electricity, pneumatic integration, printing pressure is stable, accurate positioning and easy operation, machine is durable, safe and reliable. In printing process, no need stopping at any time when adjust the plate cylinder position, make every plate cylinder in correct overprint position, so improve the effect of printing, save printing consumables and adjust machine time for customer.
This machine adopts pneumatic pressure of plate cylinder, printing pressure is stable, in the printing process, non-stop registration and 360 degree plate cylinder adjustion, the position of the front and back of plate cylinder can also be adjusted. So improve the efficiency of machine adjustment.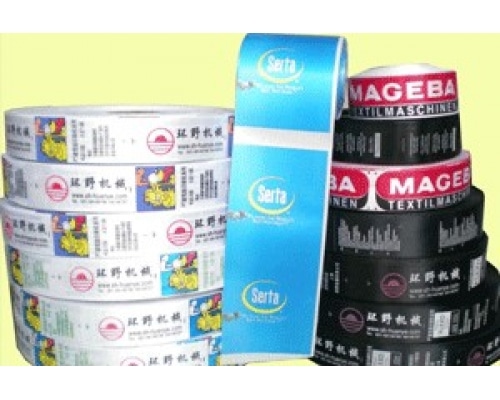 Advantages :
1. Color firmness, wash durable, non-fading, it can print various tape-type materials.
2. The gear plate cylinder can be freely exchanged to modify the printing length.
3. Its printing color is bright, firm and accurate registering.
4. It is characterized by ease, flexibility of operation, with sound reliable mechanic Performance.
5. It can print white characters in white ink on the black tape-type materials
It can Ribbon, nylon belt, cotton belt, ribbon, adhesive tape, and roll – pack paper
HLSB-PT2/1 4/2 6/2 Fabric Label Flexo Printing machine
Specifications:
Model
Color
Power/Output
N.W
G.W
Size (L*W*H)
Front
Reverse
PT2/0
2
0
220V/2.4KW
220KG
270KG
1120*820*1460mm
PT2/1
2
1
220V/3.8KW
700KG
800KG
1830*1000*2200mm
PT3/1
3
1
220V/3.8KW
800KG
900KG
1850*1000*2210mm
PT4/2
4
2
220V/4.2KW
900KG
1000KG
1850*1000*2250mm
PT6/2
6
2
220V/5.0KW
1100KG
1250KG
1850*1000*2220mm
PT2/1 -360°
2
1
220V/3.5KW
700KG
800KG
2000*1000*1900mm
PT4/2-3600
4
2
220V/4.5KW
900KG
1000KG
2150*1000*2250mm
Max.Printing Width
150mm
Min.-Max.Printing Circumference
102.54mm-300.15mm
Printing speed
0-60 m/min
Analog Ceramic DPI
150′ 180′ 250' 300′ 500′