HL-AUSCP 2S 560 Automatic collating and book sewing production line With the development of digital presses, on-demand printing, the traditional postpress equipment can not meet the needs of the market.
We have the latest R & D design, manufacturing digital folding and book sewing line linkage, both to do a book can quickly and efficiently complete the folding, book sewing line function. But also to meet the traditional printing of the sewing line, really a dual-use machine.
Product composition:
IELTS digital folding, book sewing linkage consists of a fully automatic folding machine and a computer program-controlled automatic book sewing machine, including: paper stacking system,electronic feeder system (ie paper separation system), conveyor system , The folding system automatic feed system, book sewing system, automatic control system and other components.
Folding unit:
using the most advanced paper sub-paper feeder system, according to page number tocomplete a book of folding and book sewing line function, you can also achieve mass production tasks;
folding high speed: the maximum speed of up to 220 m / min, feeding reliable, stable and beautiful. Folding roller with a new technology, paper grab strong, anti-corrosion, sticky ink degree of light;
High folding accuracy: safe transmission of paper, to achieve high precision and excellent production efficiency;
intelligent control: electrical system using microcomputer control, color touch screen, the whole process of monitoring into the paste, delivery, more paste, leak paste;fault detection: the emergence of missing posts, leak posts, more posts, plug, out of posts,such as the collapse of the machine when the alarm and stop the machine, while showing failure.
storage memory: you can store a variety of different book sewing line procedures can be repeated calls.
error detection system (optional).
Book sewing line unit:
high speed high precision: the maximum speed of up to 180 stickers / minute, the machine has a fully sealed cam control box, inside the control box filled with lubricants, running smoothly, durable, drive sewing saddle needle group precision work. sewing the saddle on the saddle through the upper and lower synchronous belt structure of the pull gauge to complete the precise positioning.
using two synchronous robots and four timing belt clip paper, do double under the paper and delivery more stable and reliable.
intelligent control: color touch screen, the whole process of monitoring into the paste,delivery, more paste, leak paste, sewing line, paste and other work links to ensure the quality of the sewing line.
fault detection: the emergence of missing posts, leak posts, more posts, sewing, out of posts,posts and broken lines and other failure when the machine alarm and shutdown, whiles howing failure.
with automatic fault detection function "matching".
storage memory: you can store a variety of different sewing line procedures can be repeated calls.
automatic oversight: through the touch screen to set the size of the signature, confirm and press the start button, the transmission system automatically positioning the conveyor belt,open the flip device, positioning fixed saddle drive chain and acceleration wheel, and the height of the book In place. Easy to learn, fast operation, conversion board fast, improve production efficiency.
Posts: blowers and manipulators will be the bottom of the signature and the pile of posts separated, Diao teeth will separate the signature from the hopper out; help to eliminate the surface of the scratches of the phenomenon.
automatic flip: flip device equipped with up and down the four program-controlled vacuum retractor device can be 4 +4 vacuum off the page, can be completed 4 sets of foot or high and low feet, on the set of pages, Long and short side of the uneven thickness of the letter can be automatically flip; on the length of 8mm above the signature can also be completed flip.
postal delivery: after the page after the cover on the delivery guide, driven by the conveyor chain hook; after the wheel into the sewing wheel saddle, speed up the wheel speed according to the machine to automatically adjust the speed.
automatic sub-cut line: automatic sub-hook line, trimming device can not pull the line precision cutting (the excess thread cut to 10mm or so easy to glue), no matter how many books composition, sub-book can be set by One by one to separate, to avoid the spine of the spine.
flat sewing and cross-sewing: the use of fine ultra-short needle (1.6mm), stitch (19mm) sewingline to make the product more flat, and easy to leak glue to ensure high quality sewing line effect. The sewing device consists of cam-type equipment units that reduce both the noise and the extended life of the cam; the flat or cross-sewing can be selected as needed.
On-demand lubrication: centralized oil lubrication system, the oil pressure can be alarmed,with a regular quantitative lubrication device, boot state, through the lubrication of the pipeline to make the need to lubricate the point of time quantitative quantitative lubricants.
Detailed Data:
Sample for HL-AUSCP 2S 560 Automatic collating and book sewing production line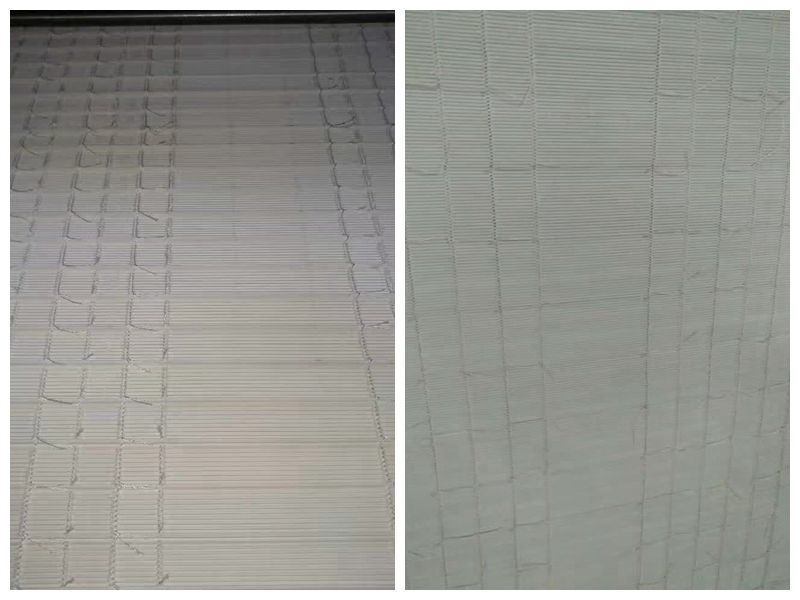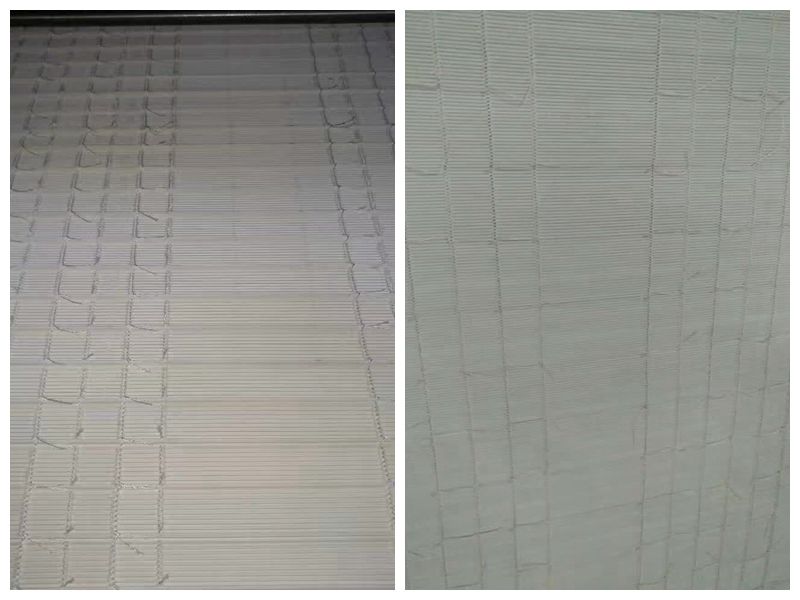 About us
Zhejiang Haoly Limited combines extremely competitive price, innovative technologies and long-standing exporting experience in the Post press machine, printing machine,and packaging machine, and quick printing machine.We are your best selection for printing and packaging industries.
In past ten years, Lanxi Jinhua Machine Company is Focusing on machine for wire-stitched exercise books, ruled and sheeting, soft and hard cover book.Can manufacture full automatic exercise book making machine, exercise book ruling machine, book sewing machine, casing in machine, hard cover making machine, three side trimmer, saddle stitching machine, glue binding machine, and other post press machine.
we also can provide kinds of printing and packaging machine, such as
1. Post press machine: paper cutting machine, laminating machine, creasing and die cutting machine, hot stamping machine, paper folding machine, paper collating machine, paper punching machine, eyelet machine
2. Printing Machine: Offset printing machine, Pre-press machine, Flexo Printing machine, card printing machine
3. Quick printing machine: small paper cutter, digital Creasing machine, small glue binding machine.
4. Paper product making machine: gluer folder, paper box machine, paper bag machine, paper cup machine, envelope making machine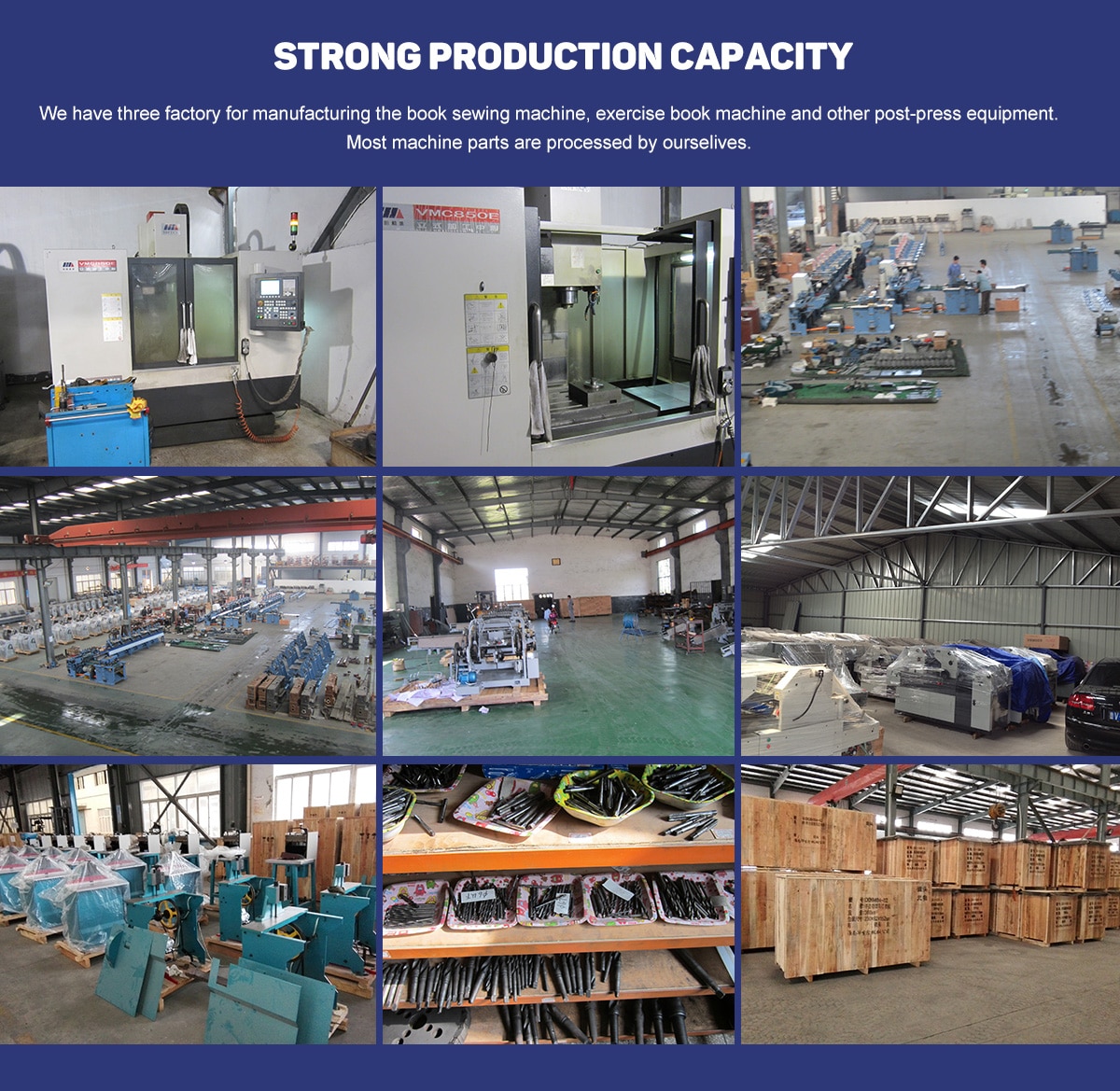 1. Are you a factory or trading company?
We are an actual factory and manufacturer with trading in the line of postpress machine and package machines for more than 10 years.
2. Why choose us?
1. 30 years of production experience with good quality. All our machines have got CE certificate.
2. Competitive price in the same level quality of paper cutting machines.
3. Thoughtful pre-sale and after-sale service. Any questions, pls feel free to contact us.
3. What about your payment term?
For most orders, payment terms is 30% T/T in advance before production, the balance 70% should be paid before delivery. And we also accept other way like L/C, wetern union etc.
4. What about the afterservice?
1. Uauslly ,most machine is stable and easy to operate, With the help of videos and instructions, you can quickly learn how to operate.
2. If still cannot operate, We offer online training and video instruction
3. If you need to dispatch an engineer, please contact us for detailed consultation
5. How dose your factory do regarding quality control?
Quality is our soul of company. Our people always attach great importance to quality controlling from the very beginning to the very end. Our factory has passed CE certification.
6. What about the spare parts?
We will provide all spare parts from the original factory